List of Traffic Violations in the Philippines
By Abert
---
Posted on Aug 15, 2017
---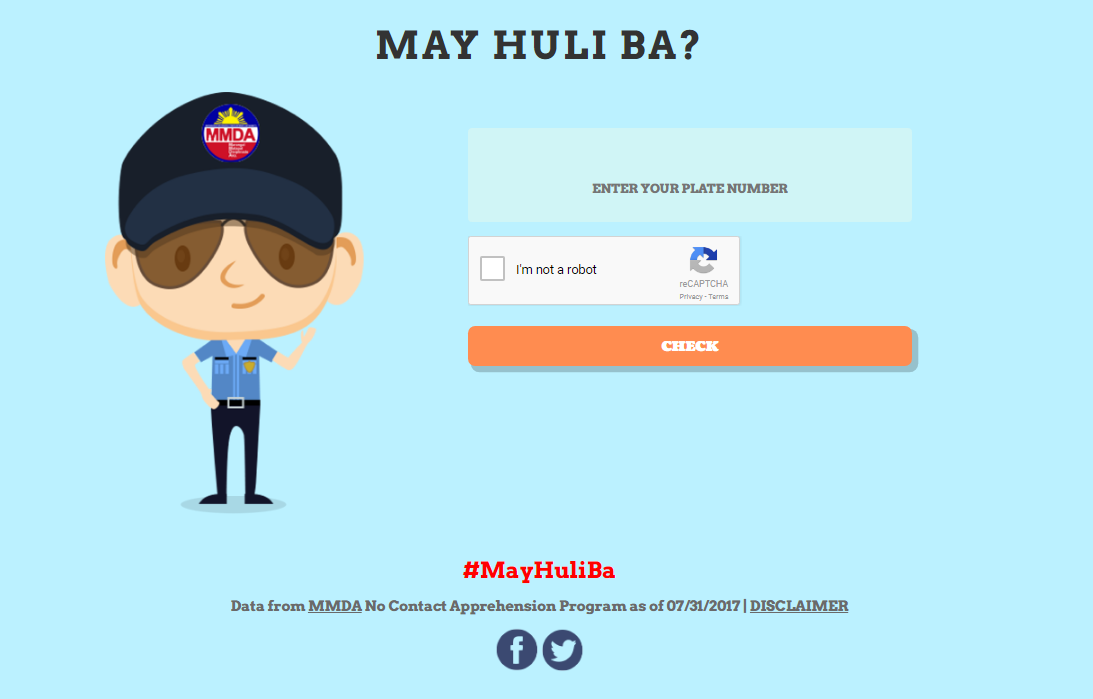 To verify any traffic violations, motorists can type in their vehicle's license plate number on the website http://www.mayhuliba.com. The database will inform motorists of the specific violation, the time and place where it was committed, and the status of the official notice that they will receive from the MMDA.
TRAFFIC VIOLATION
ALLOWING ANOTHER PERSON TO USE DRIVERS LICENSE
ALLOWING ANOTHER TO USE COMML / BUSS. NAME
ALLOWING IMPROPERLY LIC / UNLIC PERSON TO DRIVE
ALLOWING PASSENGER ON TOP OF VEHICLE
ARROGANCE / DISCOURTESY (w/ seminar)
BAN ON RIGHT-HAND DRIVE MV
BREACH OF FRANCHISE CONDITIONS
BROKEN SEALING WIRE
BROKEN TAXIMETER SEAL
BUS / PUJ Lane Ordinance along Commonwealth(Pvt. Veh.) Physical App. MMDA Reg. No. 11-001 Series of 2011
CARRYING RED LIGHTS INFRONT OF MV
COLORED / TINTED / PAINTED WINSHIELD / WIND GLASS
COLORUM OPERATION (CARGO VEHICLE)
COLORUM OPERATION (PASSENGER) - MMDA Reg. No. 97 – 004
CR / OR NOT CARRIED
CUTTING AN OVERTAKEN VEHICLE
DEFECTIVE BRAKES
DEFECTIVE EQUIPMENT
DEFECTIVE / BROKEN WINDSHIELD
DELINQUENT / INVALID REGISTRATION
DETACHED / IMPROPER / TEMPORARY SIGNBOARD
DIM-COLORED LIGHTS (FOR HIRE)
DIRTY / UNCARED FOR PLATES
DIRTY / UNSANITARY EQUIPMENT
DIRTY / UNSIGHTLY / DILAPIDATED MOTOR VEHICLE
DISREGARDING TRAFFIC SIGNS
DOUBLE LICENSE
Drag Racing / Speed Contest – PARANAQUE MMDA MC No. 14-11
Drag Racing / Speed Contest – PASAY MMDA MC No. 14-11
Dress Code for Riders (Slippers)
DRIVING AGAINST TRAFFIC
DRIVING IN A PLACE NOT FOR TRAFFIC
DRIVING IN SLEEVELESS SHIRT
DRIVING IN SLIPPERS
DRIVING UNDER INFLUENCE OF DRUGS
DRIVING UNDER INFLUENCE OF LIQUOR
DRIVING W /DEL / INVAL / INEFFECTUAL DL
DRIVING WHILE USING CELLULAR PHONE / HANDSET RADIO
DRIVING WITH REVOKED DRIVERS LICENSE
DRIVING WITH SUSPENDED DRIVERS LICENSE
DRIVING WITHOUT LICENSE
EDSA MINIBUS BAN
EMPLOYING DISCOURTEOUS / ARROGANT DRIVER / CONDUCTOR (w/seminar)
Excess Passenger / Cargo
EXTENDING LOAD WITHOUT PERMIT
FAILURE TO CARRY ARMORED VEH. DOCUMENTS
FAILURE TO CARRY EWD
FAILURE TO CARRY / SHOW / SURRENDER DRIVERS LICENSE
FAILURE TO COMPLY W/ACCDT. OR TRAFF. VIOL. PROCEDURES
Failure to Comply with LTFRB MC 2011-004
FAILURE TO DIM HEADLIGHTS
FAILURE TO DISPLAY THE REGULAR PLATE (w/comm. Plate)
FAILURE TO GIVE PROPER SIGNAL
FAILURE TO GIVE WAY TO OVERTAKING MOTOR VEHICLE
FAILURE TO GIVE WAY TO POLICE / FIRE VEH / AMBULANCE
FAILURE TO INSTALL EWD
FAILURE TO PAINT "AIRCON" (TX)
FAILURE TO PAINT AUTHORIZED ROUTE
FAILURE TO PROVIDE CLEAN SEAT COVER (TX)
FAILURE TO PROVIDE LIGHT ON TAXI METER
FAILURE TO PROVIDE LIGHT ON TOP OF TAXI
FAILURE TO RETROFIT
FAILURE TO SIGN DRIVERS LICENSE
FAILURE TO STOP MOTOR AND NOTCH HANDBRAKE OF MOTOR WHEN UNATTENDED
FAILURE TO STOP BEFORE THROUGH HW / RR CROSSING
FAILURE TO USE SEATBELT
FAILURE TO YIELD RIGHT OF WAY
FAKE DRIVER'S LICENSE / SPURIOUS DRIVER'S LICENSE
FAKE ID / PERMIT
FAKE NUMBER PLATES
FAKE STICKERS
FAKE TAGS
FAKE /ALTERED TAXIMETER SEAL
FAKE / ALTERED SEALING WIRE
FAST / DEFECT / NON-OPER / TAMPERED TAXI METER
FLAGGED UP METER
For No Contact along Commonwealth (BUS / PUJ Lane Ordinance) MMDA Reg. No. 11-001 Series of 2011
For No Contact along Commonwealth (Illegal Parking)MMDA Reg. No. 11-001 Series of 2011
HITCHING
ILLEGAL DISPLAY OF ENFORCERS I.D
ILLEGAL DISPLAY OF SIGNBOARD
ILLEGAL OR UNAUTHORIZED COUNTERFLOW - MMDA Reg. No. 97 – 003
ILLEGAL OVERTAKING
ILLEGAL TRANSFER OF PLATES / TAGS / STICKERS
Illegal Parking Physical Apprehension
ILLEGAL TURNING
ILLEGAL / UNSAFE TOWING
IMPROPER/ DEFECTIVE HORN / SIGNALING DEVICE
IMPROPER PAINTING OF AUTHORIZED ROUTE
IMPROPERLY DISPLAYED PLATES
IMPROPERLY REGISTERED MOTOR VEHICLE
INCONSPICOUSLY DISPLAYED PLATES
INCREASING SPEED WHEN OVERTAKEN
INSTALLATION OF JALOUSIES ( FOR HIRE)
INSTALLING AIRCON W/O AUTHORITY (TX)
INVOLVED IN ACCIDENT
Jaywalking Ordinace No. 1 Series of 1995
Jogging Lane Marikina
JOINED / RECONNECTED SEALING WIRE
LACK OF ARMORED VEHICLE MARKINGS
LOADING / UNLOADING IN PROHIBITED ZONE
LOOSE TRIPLEX SEAL
MODIFIED BUS STOP SEGREGATION SCHEME
Motorcycle Lane (EDSA) - MMDA Res. No. 1 Series 2012
Motorcycle Ordinance Marikina No. 43
MV W /METALLIC TIRES
NO BODY NUMBER
NO BRAKE LIGHTS
NO BUSINESS / TRADE NAME (PRIVATE)
NO CANVAS COVER
NO CAPACITY MARKINGS
No Contact Illegal Parking
No Contact Loading / Unloading in Prohibited Zone
No Contact Open Door - (1 door only)
No Contact Overspeeding
No Contact Reckless
No Contact (BUS / PUJ LANE ORDINANCE)
NO CRASH HELMET
NO DRIVER'S ID
NO FARE MATRIX
NO FRANCHISE / CPC / PA CARRIED
NO INTERIOR LIGHT
NO NAME OF OWNER / OPERATOR (TX)
NO NOT FOR HIRE SIGN
NO OWNER / BUSINESS NAME / ADDRESS (FOR HIRE)
NO PLATE LIGHTS
NO PLATE / FRONT PLATE / REAR PLATE
NO REAR VIEW MIRROR
NO RED FLAG / LIGHTS ON PROJECTING LOAD
NO RED REAR LIGHTS
NO SPARE TIRE
NO STICKER
NO TAIL GATE
NO DRIVERS UNIFORM
NO TAXI METER
NO / CUT MUFFLER
NO / DEFECTIVE HANDBRAKE
NO/DEFECTIVE HEADLIGHTS
NO / DEFECTIVE SPEEDOMETER / TACHOMETER
NO / DEFECTIVE TAILIGHTS
NO / DEFECTIVE WINDSHIELD WIPER
NO / DEFECTIVE WIPER
NON-ISSUANCE OF FARE TICKET (PUB)
ORGANIZED BUS ROUTE : Vehicles in excess of time limit prescribed for loading / unloading of passengers and / or goods.
OVERLOADING
Overspeeding Physical Apprehension
REFUSAL TO CONVEY PASSENGER TO DESTN / TRIPCUTTING TX
SMOKE BELCHING
TAMPERING OF OR / CR / CPC & OTHER DOCUMENTS (SPURIOUS DOCUMENTS)
UNREGISTERED MOTOR VEHICLE
Your driving history is one of the biggest factors in determining what you pay for car insurance. If you drive for several years without causing an accident or committing a violation, your insurer will reward you through lower rates and safe-driving discounts. That's because safer drivers are less likely to crash (and file a claim) compared to a driver with a history of risky behavior.
If you own a car, you must have some car insurance. Vigattin Insurance has trusted partner that offers great service for lowest rate just visit on this page https://www.vigattininsurance.com/car-insurance
---
---