Standard Insurance
We Protect Your Emergencies
Our Company at a Glance
We are the leading motorcar and general fire insurance company
 in the Philippines. Our mission is to provide excellent insurance products and services to the growing needs of the Philippine market. We offer a wide range of property and general insurance products for individuals, small and medium enterprises and local and global corporations. Founded in 1958, we have insured the Filipino customer for 55 years through our 42 branches, dealer/agents and brokers network nationwide. We rely on a trusted and talented workforce of 800 people whose service delivery ensures that we remain a valued brand.
Standard Insurance is a cooperative partner of Zurich Insurance Group.
Our Vision
"We are a family of dedicated, God-loving professionals, built on integrity, creating prosperity for ourselves and our shareholders. We aim to be the No. 1 insurer in the Philippines and a growing international company."
Our Aspiration
"We aspire to be the most trusted non-life insurance company in the Philippines."
Awards Received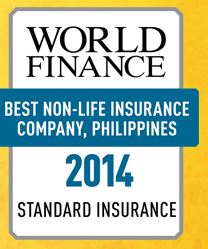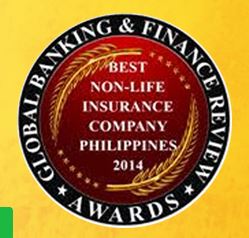 Benefits:
Free Ambulance

Emergency towing due to mechanical breakdown or car accident (up to 4,000)

Removal of vehicle (up to 15,000)

Alternative travel (up to 2,000, max. of 2 nights)

Minor on site repair

Fuel delivery

Battery boosting/jumpstarting

Locksmith service

Tire replacement

Personal assistance
Stay or travel due to breakdown (48 hours vehicle repair)

Continuation of journey
Transfer to place of residence or destination, or
Payment of travelling expenses to place of destination - Php2,000 max
Info service (Metro Manila only)
Claims procedure/ documentation requirements
Accredited Repair Shops
Accredited Adjusters
24/7 Traffic Information and Road Condition
Nearest Gasoline Station
Emergency Numbers ( Police, Hospital, Fire Station, etc)
Weather Information
Basic information in nearest hotels
General information (Currency, Holidays, Area, Codes)
Dining information (Restaurants, Loungers, Bars)
Shopping Malls and Bargain Centers
Flight information online ( Booking excluded)
---