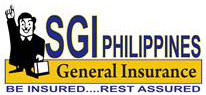 SGI Philippines General Insurance Co. Inc.
Be insured, Rest assured
SGI Philippines General Insurance Co. Inc. is a venture of Shriram Group, the Indian financial services conglomerate, Piramal Group, a diversified conglomerate from India and Sanlam Group, the largest insurance company in South Africa.
With paid-up capital more than Php 350 Million, SGI Philippines is ranked among the top ten insurance companies in this country. We have strength and commitment to protect the Filipino people and serve them with a smile.
Our wide portfolio of product is aimed at different sectors ranging from Fire Insurance to Motor, Engineering, Marine to Miscellaneous and PA to Bond Policies. Our latest product Micro Insurance is specifically designed to service the risk and protection needs of the masses at an affordable price.
Born of Rich Legacy
The Company was incorporated in 1964 by the American Foreign Insurance Association (AFIA) the largest worldwide insurance provider and was acquired by the Soriano family in mid 70's. In 1984, Cigna a leading American insurer merged with AFIA and Monarch Insurance thus became a subsidiary of AFIA CIGNA. In 2011, Indian conglomerate Shriram Group took over the management of the company and initiated financial restructuring & regulatory compliance. The group along with Sanlam Group of South Africa also invested in the company substantially. Shriram General Insurance, the fastest grown insurance company in India, further invested in the company in 2013 to become the largest stakeholder and provider of technology.
Shriram Group
Shriram is a leading Indian Conglomerate engaged in a variety of financial services including Commercial Vehicle Financing, Consumer & Enterprise Finance, Retail Stock Broking, Life Insurance, Chit Funds and Distribution of Investment & Insurance Products. The group size can be judged by the numbers. Today the group has over 45, 000 employees and operating through 2,400 branches and manages funds of over USD 16 Billion in Financial Services including Life Insurance and General Insurance.
Piramal Group
Piramal Group of India is a diversified conglomerate from India, with operations in over 30 countries and a strong presence in more than 100 markets around the world.
SANLAM Group
Sanlam Group, the largest insurer in South Africa with a Market Cap of over US$10 Billion, provides financial solutions including investments, asset management, stockbroking, capital market and insurance. They are 26% partner in Shriram Capital, the mother company of Shriram Group.
Our Vision
To be the most trusted and preferred non-life insurer of a common man.
Our Mission
To provide insurance services of high quality at affordable cost and achieve customer ecstasy by providing needed innovative products using latest technology
Our Core Values
Customer's interest ahead of our own
Absolute integrity and transparency.
Utmost confidentiality of customer information
Value for money
Speedy Service and Customer satisfaction
We're proud of what we do – we act sensitively with the highest standards of integrity and social responsibility.
Corporate Governance Scorecard
Corporate Governance Scorecard Of SGI 2015
Corporate Governance Scorecard of SGI 2016
Corporate Governance Scorecard of SGI 2017
Our Board of Directors
PROF. TOMAS LOPEZ, JR., Chairman
Farhat Hussain , President & CEO
J.S.GUJRAL, Director
VICTOR LIMLINGAN, Director
KUOK KHOON PING, Director
---